Peterborough Craft Shops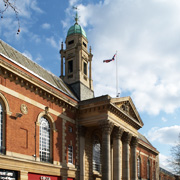 Whilst the Queensgate shopping centre is the main focal point of multiple stores shopping in Peterborough, independent craft shops, artist supplies, haberdashery outlets and children's arts & crafts shops are dotted all over the city. Peterborough is home to online supplier CraftMerrily who stock the biggest selection of Hama Beads in the UK, as well as glass makers Iridescent Glass Design and artist Anne Smart who'll try and teach you to paint.
Any Peterborough business selling cake decorating materials, knitting or sewing supplies, card making sets or a host of other arts & crafts materials can have a completely free listing in this directory.
FEATURED PETERBOROUGH SHOPS
8-29 Maxwell Rd, Peterborough, Cambridgeshire, PE2 7JE
01733 396585
PETERBOROUGH SHOPS
Alan & Barry's Crafts

22 Fenlake Business Centre, Peterborough, Cambridgeshire, PE1 5BQ
0845 6529701
Anne Smart - Artist & Tutor

75 Millfield Road, Peterborough, Cambridgeshire, PE6 8QY
01778 342047
Art And Stitch

36-37 Aston Business Park, Shrewsbury Avenue, Peterborough, Cambridgeshire, PE2 7BX
01733 230898
Artists in Stained Glass

81 Bradwell Road, Peterborough, Cambridgeshire, PE3 9QL
01733 262178
Boxcraft

94 Wood Road, Peterborough, Cambridgeshire, PE8 6XR
01780 470880
Iridescent Glass Design

15 Monks Drive, Peterborough, Cambridgeshire, PE6 7WG
01733 221126
Mosaic Heaven

9 Peacock Square, Blenheim Way, Peterborough, Cambridgeshire, PE6 8LW
01778 380989
Pondskipper Crafts

6 Woodston Business Centre, Shrewsbury Avenue, Peterborough, Cambridgeshire, PE2 7EF
01733 371300