Cake Decorating Supplies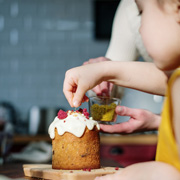 There's no doubt that a fantastically decorated cake will turn eyes at any event or special occasion as people shun the savoury bits and pieces and impatiently wait for the cake to be cut! With weddings, birthday parties or just a good old fashioned tea party to attend, the cake decorating ladies (and men) will have been hard at work for hours or even days ensuring that their work of art is as perfect as possible.
Cake decorating supplies like cutters, brushes, flower making accessories, stencils and turntables can be bought from hundreds of UK traditional and online cake decorating shops that specialise in everything anyone could ever need to perfect the art of cake decoration. There are millions of amateur cake decorators who love to experiment in sugarcraft with different colours, designs and shapes to create something different or bold; the promotion of the humble cup cake to that of a big cake substitute has brought out the best in the fastidious cake decorators who make incredible designs on such small areas.
Cake tins can be bought in almost any imaginable shape with numbers being popular for birthday events, and some shops selling cake decorating supplies will even be able to hire out tins for one off events. The art of sugarcraft can be so sophisticated as to produce incredible sugar sculptures that either complement traditional cake decorating or can be used as standalone decorations that can eventually be eaten! Whatever level you're at in cake design, there are plenty of cake decorating suppliers to help with ingredients, accessories or just advice.