Flower Pressing Supplies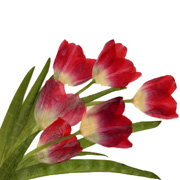 Flower pressing can be a wonderfully unpredictable craft. By flattening your favourite flower and excluding light and water, the result can often be quite surprising, with the pressed flower taking on an altogether different colour or characteristic. Thanks to its popularity, flower pressing supplies are easy enough to come by. In particular, there are plenty of flower pressing kits specifically designed for young children to practice this creative craft.
Flower pressing has more than just a creative virtue. Uncommon or highly seasonal flowers will require diligence to track down - and can often require a long walk in woodland or near the coast to track down. It can help youngsters form a knowledge and appreciation of nature and the seasons - and provides all craft enthusiasts with some exercise at the same time!
In terms of flower pressing supplies, it's perfectly possible to go without spending a penny. A pile of heavy books and some reasonable paper is all that's required to get to grips with this craft. The chances are though, that it won't be long until you want to invest in your own flower press which not only saves space but provides a lot more accuracy. Paper is also an essential component of the craft and specialist flower pressing shops will be able to supply you with all kinds of different papers so that you can acheive the finish you're after.