Bookbinding Supplies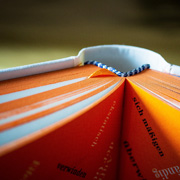 As with printmaking and papermaking, at first glance there doesn't appear to be much need for traditional bookbinding. It's certainly not the most resourceful of activities, but then again it's much less about replication and more about producing something of real character and charm.
In terms of getting hold of bookbinding supplies, there are several specialist bookbinding shops operating in the UK that can provide all the materials and paraphernalia you may need. Starting with basic bookbinding kits for children or beginners, these will come with all the components you will need to get started in your bookbinding career. Typically they will include thread, a set square, cutting mat, craft knife and glue - and most of them will come with a detailed, illustrated instruction manual to guide you through the process.
Once you've mastered the basic techniques, you'll then be ready to look out the more specialist bookbinding supplies like bonded leather, buckrams and metallic blocking foils. It can be an expensive hobby... but the results can be stunning!
SHOPS SELLING BOOKBINDING PRODUCTS