Pottery Supplies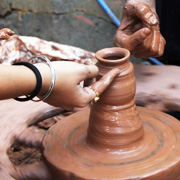 As one of the more expensive craft hobbies to pursue, pottery making is intensely satisfying as well as incredibly frustrating as you learn the intricacies of how to make that perfect vase, mug or bowl. Help is at hand however, with a large number of specialist shops and websites dedicated to pottery supplies and advice. Whilst a potters wheel is an obvious requirement, the choice of kick wheel or electric operation largely comes down to budget – and fitness!
Beginners will normally be encouraged to use red clay as it's stiffer and more controllable on the wheel, although once glazed and fired in a kiln the results can sometimes seem a little disappointing. White or grey clay gives the best final results and together with many different coloured glazes, pottery suppliers should be able to sell almost any combination. They will also have a great range of accessories including knives, carving tools, sponges, clay cutters and wax.
If you'd sooner make flat clay tiles you'll also need to purchase a special clay roller that gradually thins a larger slab of clay into a workable size. Shops selling pottery supplies can also provide pre-made moulds that ensure your tiles are of a uniform size and thickness, and the use of decals or texturing plates can give exactly the required finish.