Scrapbooking Supplies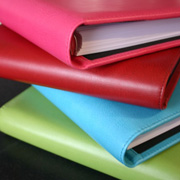 Far from being a dying pastime, scrapbook keeping (or "scrapbooking" to give its popular title), is on the ascendency with millions of people addicted to keeping thousands of family history or personal records in the form of a scrapbook. Usually starting with a blank album cover, pages are then added as the scraps mount up. Scrapbooking supplies can be found across the UK, most of whom sell an extraordinary number of embellishments like stickers, beads, sequins or stamps to add to the pages.
Whilst A4 is a standard size for most scrapbooks, smaller sizes are popular as well, with the pages often coming with a plastic cover to keep everything clean and in apple pie order. Whilst photographs are probably the most stored items in scrapbooks, concert tickets, invoices, messages, finger prints or anything anyone wants to collect and keep, can be considered as a suitable candidate. Scrapbooking supplies can even include special pages or albums just devoted to individual events or holidays.
The use of materials that won't decay or fade over time are really important to preserve the integrity of the scrapbook contents; so scrapbooking shops all sell accessories like acid free pens, special adhesives, scissors, knives and even photo corners and fade-free marker pens. In a digital age it's fantastic that keeping physical things is so important for all generations, especially when they may be read by family members in fifty or even a hundred years time.
FEATURED SHOPS SELLING SCRAPBOOKING PRODUCTS

Self-styled as the ultimate arts & crafts superstore, HobbyCraft has dozens of shops all over the UK and is a household name among craft fans.
Visit HobbyCraft Now >>
SHOPS SELLING SCRAPBOOKING PRODUCTS