Jewellery Making Supplies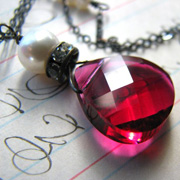 As one of the biggest segments in the UK's craft market, jewellery making is one of the best ways to express your own personality by creating special pieces of jewellery that match your personal outfits or moods. Threading beads to make necklaces or bracelets is one of the easiest ways to start an interest that can quickly develop into a small business as friends and family admire your creations. Jewellery making supplies are available from thousands of outlets that range from tiny physical shops to online retailers offering millions of different jewellery making products.
Whatever jewellery making you choose some simple tools like crimping pliers or files will be needed to bend wire, cut off stray ends and create a smooth finish. Semi precious gemstones, beads, thread, wire or even silver sheet are all the stock in trade of jewellery makers; if you get really keen on the hobby, stone drilling kits, headband magnifiers and soldering guns are all products that you may need to consider.
Most independent jewellery making suppliers can help customers with patterns and designs for inspiration, as well as selling complete starter kits to try the hobby before you get fully committed. Books and DVDs about jewellery making are widely available and can help you choose which material most suits the patterns that you want to achieve.
FEATURED SHOPS SELLING JEWELLERY MAKING PRODUCTS

They design and create handmade items such as dreamcatchers, earrings and bracelets.
Visit Wilde About Crafts Now >>
SHOPS SELLING JEWELLERY MAKING PRODUCTS