Wilde About Crafts
No customer reviews yet. Be the first.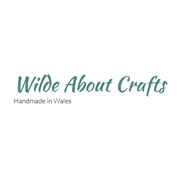 Address
23 Wordsworth Avenue, Haverfordwest, Pembrokeshire, SA61 1SN
Telephone
01437 621395
Website
www.wildeaboutcrafts.co.uk
About
Wilde About Crafts are based in Haverfordwest, Pembrokeshire. They design and create handmade items such as dreamcatchers, earrings (hook, stud and clip on), bracelets, key rings and gift sets. The company also offer a custom design option on the dreamcatchers allowing you to make them perfect for you.
Customers can choose the style of weave, colours, decorations and anything else you want. It is a husband and wife team that build and create these beautiful handmade pieces ensuring that each one is different and unique. They ensure all items are perfect before sending them out to their customers.
Additionally, they also attend regular events and craft fairs in and around Pembrokeshire selling all of their products. Customers can also purchase items through the Wilde About Crafts website and also through their Facebook pages where they hold regular competitions to win some of the jewellery. They'd be keen for you to drop by and share some love.
Wilde About Crafts is a Pembrokeshire shop that specialises in jewellery making supplies.
---
Additional facilities
---
Payment methods