Papermaking Supplies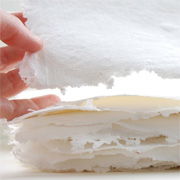 Paper is the staple material for dozens of crafts - and is the essential component for successful origami, flower pressing, and printmaking. It's also an environmentally-friendly craft, because by its very nature it encourages people to recycle waste and create something beautiful from it.
Whilst most basic papermaking supplies can be found around the home, you'll need to invest in a papermaking deckle and frame. Ingredients can be just about anything of your choosing. Herbs & spices, seeds, flowers and even tin foil can all be used to produce your own signature paper. As with all hobbies, there's lots of papermaking paraphernalia to satisfy the more daring enthusiasts; with specialist fibres, additives, pigments and papermaking tools all available.
Companies like 4M produce papermaking kits for children - and these sets provide the perfect introduction to this tactile and satisfying craft. There are plenty of online tutorials available to learn the basics - and there's also a good range of books and DVDs available for learning more advanced techniques and recipes.