Painting Supplies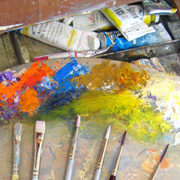 If you've ever wanted to be an artist in the traditional sense, and never had the time to paint that favourite landscape or object, it has never been easier to get the information and materials you need to start. Specialist independent painting supplies shops can be found in almost every large town or city in the UK, and an abundance of online retailers also offer a great selection of art products.
Water, oil or acrylic paints are the three most popular painting mediums, and each one requires a slightly different set of skills and techniques to get the perfect finish to your masterpiece. Maybe you'd sooner draw with various coloured charcoals, inks or crayons, but whatever your choice a painting supplies shop will be able to help. They can also supply many different types of paper or canvas, brushes, easels, art boards, cutting mats, spray paints and much more.
Many of these painting supplies shops will also sell other materials and accessories to help you undertake lino cutting, wood engraving, lithography or printmaking. If you're a real novice there's a terrific selection of instructional books and DVDs that give tips and techniques on all aspects of painting.
SHOPS SELLING PAINTING PRODUCTS