Haberdashery Supplies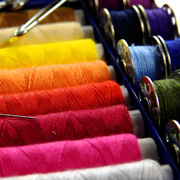 It's a popular misconception that sewing and knitting are dying arts, proven by the sheer number of haberdashery shops that offer their customers great selections of everything they need to complete whatever project they're working on. Typified by thousands of different colours and strengths of sewing thread, haberdasheries sell masses more besides. A rise in the numbers of online haberdashery shops with great images and descriptions makes it easy for customers to obtain their supplies.
If you want pins and needles, clasps and buckles, studs and fasteners or scissors and tools, a haberdashery will usually supply it. In addition, they also sell buttons, elastic, velcro, glue, binding, ribbon or piping as well as that elusive warm gold or electric blue thread that perfectly matches the material you've just bought.
If you are in to dressmaking or creating soft furnishings for your home you're going to need a haberdashery shop for zips, buckles and clasps for all sorts of projects; many of them will also sell Diamante and Swarovski crystal parts for creating the ultimate in luxurious finishes. Wool can also be purchased in an extraordinary number of colours, and once again a haberdashery shop will be the first port of call for all these supplies.
SHOPS SELLING HABERDASHERY PRODUCTS