Candle Making Supplies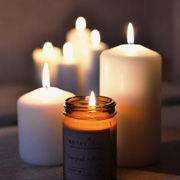 Although there's absolutely no shortage of shops selling readymade candles, if you want to enliven your room with a particular shape, size, colour or aroma of candle, there really is no better way than by making your own candles. Luckily, there are plenty of online craft shops that sell candle making supplies, starting with the real basics like wicks and wax – and moving onto more specialist items such as seasonal shaped moulds and heated plate levellers.
Some candle making suppliers can offer bespoke services to suit a particular type of candle that you're trying to make. For example, if you're looking for your candles to not just vaguely match the colour of your wallpaper but to exactly match them, you should be able to find shops that can produce specific colour dye based on a Pantone reference number. These services obviously come at a price - and minimum order quantities will be required. If you're a bit more freeform in your craft techniques though, check out some of the retailers below that all stock great ranges of basic candle making supplies.