Pembrokeshire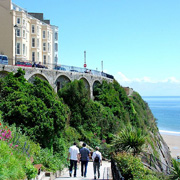 Haverfordwest is the county town of Pembrokeshire and is also home to Wilde About Crafts. This business designs jewellery and then makes all the pieces by hand. Customers can choose from dreamcatchers, bracelets, earrings and bracelets. BEADS in Tenby probably needs no introduction. They sell an amazing selection of jewellery making items to satisfy any home bracelet or necklace maker.
Pottery fans love visiting Narberth Pottery in the town of the same name. They offer an eclectic choice of handmade pieces created by local artists. If you fancy a go at creating your own designs, why not pop down to Paint Your Own Pottery in Haverfordwest. They can give you guidance on colours and patterns as well as shapes and sizes.
FEATURED ONLINE PEMBROKESHIRE SHOPS

They design and create handmade items such as dreamcatchers, earrings and bracelets.
Read more about Wilde About Crafts >>
FEATURED PEMBROKESHIRE SHOPS
2 Vanguard House, Nelson Quay, Milford Haven, SA73 3AH
01646 663952
PEMBROKESHIRE SHOPS
BEADS

5 Town Wall Arcade, Tenby, Pembrokeshire, SA70 7JE
01834 849401
Little Haven Pottery

The Craftsmanship, Grove Place, Haverfordwest, Pembrokeshire, SA62 3UG
01437 781015
Narberth Pottery

2 Market Street, Narberth, Pembrokeshire, SA67 7AX
01834 860732
Paint Your Own Pottery

22 High Street, Haverfordwest, Pembrokeshire, SA61 2DA
01437 766698