HobbyCraft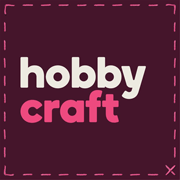 Head Office Address
Westway Cross Shopping Park, Greenford Road, Greenford, London, UB6 0UW
Telephone
0845 051 6528
Website
www.hobbycraft.co.uk
About
Self-styled as the ultimate arts & crafts superstore, Hobbycraft has over seventy shops throughout the UK and is a household name among craft fans. From Inverness in Scotland to Truro in Cornwall, and from Swansea in Wales to Norwich in the East, Hobbycraft have the country well and truly covered. The chain has dedicated departments in every store that provide basic and advanced supplies for every craft you can imagine.
Regular demonstrations of different craft techniques take place in most stores on a daily basis, and free project sheets help customers choose their next craft activity. Hobbycraft is proud to advertise that they sell craft supplies for over 250 different activities. In any of Hobbycraft's large out-of-town stores you'll be able to track down supplies for knitting, jewellery making, sugarcraft, knitting and scrapbooking to name just a few hobbies. Household brand names like Crayola and Daler-Rowney sit comfortably among more niche suppliers such as Rainbow Dust, Papermania and Hobby Pliers.
With some of the larger stores offering over 35,000 products, Hobbycraft stores can seem a little daunting at first, especially for those new to a particular craft activity. The stores are well staffed though, so it shouldn't be too much of a chore finding someone can help advise on the best purchases. Alternatively of course, Hobbycraft has one of the most extensive websites in the industry where crafters can browse at their leisure.
Whilst Hobbycraft have their stores spread all over the UK, they also have an ambitious store opening programme to fill in all the gaps. If there isnít a store near you, there could be soon!
Hobbycraft stores are in these towns and cities:
Aberdeen, Altrincham, Aylesbury, Basildon, Basingstoke, Bicester, Bolton, Bournemouth, Bridgemere, Bristol, Cambridge, Cardiff, Carlisle, Chelmsford, Cheltenham, Chester, Chingford, Copthorne, Coventry, Crawley, Crayford, Crewe, Croydon, Droitwich, Dundee, Edinburgh, Falkirk, Gateshead, Glasgow East, Gloucester, Greenford, Guiseley, Harlow, Havant, Hereford, High Wycombe, Hull, Inverness, Leeds, Livingston, Maidstone, Milton Keynes, Newport, Newton Abbot, Northampton, Norwich, Nottingham, Orpington, Oxford, Peterborough, Preston, Reading, Romford, Sheffield, Solihull, Southampton, Stafford, Staines, Staples Corner, Stevenage, Stockport, Stockton-on-Tees, Swansea, Swindon, Tamworth, Telford, Thanet, Truro, Tunbridge Wells, Warrington, Watford, Woking, Wolverhampton, York.
The head office of HobbyCraft is located in London.