City Binders
No customer reviews yet. Be the first.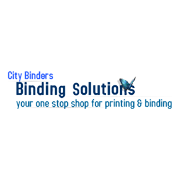 Address
1st Floor, 39 Ludgate Hill, London, EC4M 7JN
Telephone
020 7248 7990
Contact
Send an email to City Binders now >>
About
City Binders in London have many years' experience in the bookbinding, craft and printing industry. The business is friendly and professional, with experienced staff and good quality work with excellent support. As specialist bookbinders they offer thesis and dissertation binding, online printing bookbinding and international delivery.
The company is able to supply a full range of bindings including wire and perfect bindings as well as leather and box making. They have well equipped, modern, clean workshops and friendly, professional, experienced staff. They offer their professional bookbinding services to businesses, professionals, students and private clients. The services are designed to meet the customer's requirements, helping clients to have the finish they require.
City Binders creates and designs homemade bespoke bookbinding. This endorses your content and designs and is appropriate for many different uses. These can be bespoke and built as one offs by binding in leather and other types of material.
City Binders is a London shop that specialises in bookbinding supplies.