Bristol Arts & Craft Shops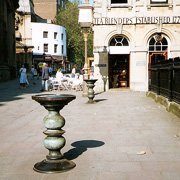 Bristol is a hive of activity in all areas of the creative industry. The city has long been well regarded for its design, new media and television output - and areas like Spike Island, Paintworks, Stokes Croft and Clifton Village are all hubs of creative activity. Alongside this burgeoning industry, Bristol has gradually welcomed more and more independent retailers who provide the city with all kinds of arts & crafts supplies.
Gloucester Road, one of Bristol's best shopping streets, is fiercely proud of its independent retailers - and this has ensured that several independently-owned arts and crafts shops in the area have flourished. Other well recognised craft suppliers in the city include Fabric Land in Broadmead and Get Knitted in Brislington, although this is just the tip of the iceberg. Jewellery making, scrapbooking, printmaking and cake decorating are just a handul of the crafts that are supported throughout the city by some excellent independent businesses.
We're looking for these retailers to help us to champion them via this directory. All they need to do is take the short amount of time to send us some more information about their business. Oh... and did we mention it's free to do so?
BRISTOL SHOPS
Art @ Bristol

44 Gloucester Road, Bishopston, Bristol, BS7 8AR
0117 370 8342
B Delicious Beads

2 Triangle South, Clifton, Bristol, BS8 1EY
01179 291789
Bamba Beads

7 Gloucester Road, Bishopston, Bristol, BS7 8AA
0117 924 9959
Bristol Fine Art

74 Park Row, Bristol, BS1 5LE
01179 260 344
Craft Works (Bristol) Ltd

355-357 Gloucester Road, Horfield, Bristol, BS7 8TG
01179 421 644
Craftisan

186 Wells Road, Bristol, BS4 2AL
Creative Glass Guild

16 Whitehouse Street, Bedminster, Bristol, BS3 4AY
0871 200 33 89
Creativity Craft Suppliers

7-9, Worrall Road, Bristol, BS8 2UF
0117 973 1710
Fabric Land

52-56 Bond Street, Bristol, BS1 3L2
0117 922 0500
Finishing Touches

St Mary Street, Thornbury, Bristol, BS35 2AT
01454 281333
Get Knitted

39 Brislington Hill, Brislington, Bristol, BS4 5BE
0117 300 5211
Harold Hockey Limited

170-174 Whiteladies Road, Bristol, BS8 2XX
0117 9735988
Niche Frames

26 Stokes Croft, Bristol, BS1 3QD
0117 9422213
Paper Village

200 North Street, Southville, Bristol, BS3 1JF
0117 963 9452
Radhika

2&3 Avonmead House, 40-48 Stokes Croft, Bristol, BS1 3QD
0117 9245116
S.E.Simons Textile Merchants

Unit 6 Netham Industrial Park, Bristol, BS5 9PJ
0117 9554710
Shiney Rocks

4.11-4.12 Paintworks, Bath Road, Arnos Vale, Bristol, BS4 3EH
0117 300 9800
Stationery World

63 Park Street, Bristol, BS1 5NU
0117 929 8099