Manchester Arts & Craft Shops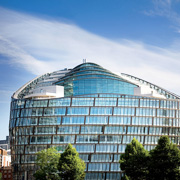 As one of the UK's biggest cities and counties, Manchester has a rich and diverse community and an extraordinary selection of important shopping areas. Whilst many multiple chain stores are attracted to the modern shopping centres, Manchester also has a great selection of smaller independent shops selling many niche products.
Manchester craft shops are a great example of this specialist type of business. Whether customers are looking for children's arts & crafts, cake decorating equipment, dressmaking materials or candle making sets, they can find it all in this major northern city. The Bead Shop in Afflecks Palace is a great example of a thriving craft business. Huge selection of beads and jewellery making accessories are available as well as world famous Swarovski crystals.
FEATURED MANCHESTER SHOPS
83 Ducie Street, Manchester, M1 2JQ
07464 301690
1st Floor, Afflecks Palace, 52 Church Street, Manchester, M4 1PW
0161 833 9950
MANCHESTER SHOPS
Abakhan Fabrics Hobby & Home

111-115 Oldham Street, Manchester, M4 1LN
0161 637 3960
Craftiways

424 Barton Road, Manchester, M32 9RW
0161 865 8347
Paddy's Stamping Place

146 Butterstile Lane, Manchester, M25 9TJ
0161 798 5115
Thackery's Arts & Crafts

48-50 Manchester Road, Manchester, M34 3LE
0161 320 4220
The Bead Shop

Afflecks Palace, 52 Church Street, Manchester, M4 1PW
0161 833 9950