Tyne and Wear Arts & Crafts Shops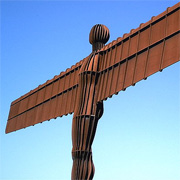 Created in 1974, the county of Tyne and Wear is the amalgamation of five previous metropolitan boroughs. A large population in this north-eastern corner of England has encouraged many independent craft businesses to open their doors to customers willing to learn new hobbies and crafts. Shops like Craft Yourself Silly or Cake Crib Creation in North Shields are great examples of businesses that have carved a niche in the market for their specialities.
Other popular craft shops include Mark's Smarty Arts in West Wallsend, Rosarama Bead Craft in in Ryton, The Craft Shop in Newcastle upon Tyne and Crafty Corner in South Shields. Another unique craft business is NE Laser Craft in Jarrow. They can create almost any shape in MDF and despatch it flat packed for home assembly and painting.
FEATURED TYNE AND WEAR SHOPS
Unit 37i, Lindisfarne Court, Bede Industrial Estate, Jarrow, Tyne and Wear, NE32 3HG
01914 777250
TYNE AND WEAR SHOPS
Cake Crib Creation

27 Forsyth Street, North Shields, Tyne and Wear, NE29 8ED
07459 397828
Craft Yoursef Silly

Unit 10, Kiltech Building, Northumberland Street, North Shields, Tyne and Wear, NE30 1DW
0191 4063523
Crafty Corner

47 Baring Street, South Shields, Tyne and Wear, NE33 2DR
Mark's Smarty Arts

108 High Street, West Wallsend, Tyne and Wear, NE28 8HY
07841 645655
Rosarama Bead Craft

15 Beech Grove Terrace, Ryton, Tyne and Wear, NE40 4LZ
0191 4139111
Shelley Louise Candle & More

Watson House, Staithes Road, Gateshead, Tyne and Wear, NE11 9DR
0191 4603262
The Craft Shop

Newcastle Arts Centre, 67 Wesgate Road, Newcastle Upon Tyne, Tyne and Wear, NE1 1SG
0191 2229880