Warwickshire Craft Shops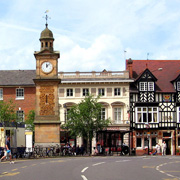 Situated almost in the centre of England, Warwickshire has many large and important towns within its boundaries. Places like Rugby, Nuneaton, Warwick and Stratford-upon-Avon all have modern shopping centres with an eclectic mix of shops. Fans of arts & crafts activities are spoilt for choice with many craft retailers to choose from. Happy knitters can always be found visiting Knit One Purl One in Nuneaton for example. They probably have the finest selection of knitting wool, cotton reels, patterns and accessories in the region.
Crafty Ideas has a retail outlet at the Yew Tree Craft Centre near Henley-In-Arden. Although they specialise in card making materials they also stock many other craft ranges with advice from well trained and experienced staff. Studley is home to Pink Tulip Creations shop where crafters can try their hand at new skills. Scrapbooking supplies are one of their biggest ranges with products supplied from all the leading brands.
FEATURED WARWICKSHIRE SHOPS
Yew Tree Farm Craft Centre, Stratford Road, Wootton Wawen, B95 6BY
01564 795235
WARWICKSHIRE SHOPS
Art Go Funky

95 Albert Street, Rugby, Warwickshire, CV21 2SW
01788 535856
Atherstone Craft Centre

39 Long Street, Atherstone, Warwickshire, CV9 1AY
01822 217764
Knit One Purl One

10 Ribbonbrook, Nuneaton, Warwickshire, CV11 4LN
07429 032673
Lilac Ladybird Craft Studio

Hill Top Farm, Fosse Way, Leamington Spa, Warwickshire, CV33 9EL
07890 154852
Lucy Crafts

Shakespeare Gardens, Rugby, Warwickshire, CV22 6EY
07517 592579
Pink Tulip Creations

Unit5, Spernal Ash Nurseries, Alcester Road, Studley, Warwickshire, B80 7PD
01527 852052